WPSApp
1.6.56
WPS App – Check the Security of Your Wi-Fi Network
Do you have the WPS protocol enabled on your Wi-Fi network? Do you want to find out if your Wi-Fi password is easy to guess? If yes, then this WPS App can be of great help to you. WPSApp is a useful app that allows you to check the vulnerability of your Wi-Fi connection and to find other vulnerable networks near your location. It lets you analyze the security of the password of your WPS-enabled network. You can see if others can guess your Wi-Fi password easily or would it be impossible for them to hack it. This app can also advise you about changing your Wi-Fi password if it is too common and predictable. Also, you can scan for other unsecured networks using this app too.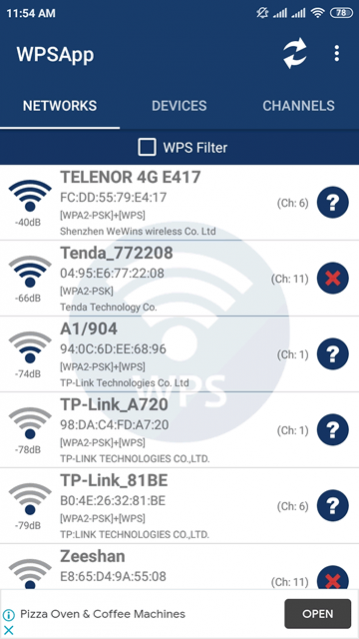 WPSApp has a simple user interface that meshes perfectly with its intuitive design and layout. It is very easy to use this WPS app once you understand how it works. You will find three tabs on the home screen. The first one is for Networks while the other two are for Devices and Channels respectively. In the Networks tab, you will have to swipe your finger down to begin scanning for the Wi-Fi networks near your location. Once the scan is complete, you will see all the networks available in your vicinity. You can check the WPS Filter option located at the top of this list to only see WPS-enabled networks. The SSID and BSSID of all the networks will also be shown to you.
This WPSApp displays one of three different kinds of symbols in front of each network it scans for you. If there is an 'x' symbol, it means that the network has WPS disabled and can't be accessed. The '?' symbol indicates that the network has WPS enabled but its password isn't known. For these types of networks, WPSApp allows you to try the most common pins that are usually used as passwords. You will also find a green tick mark symbol in front of some of the networks. This symbol shows that the network is vulnerable and its password is also known. You can easily connect to such unsecured networks by entering the password provided to you by the app.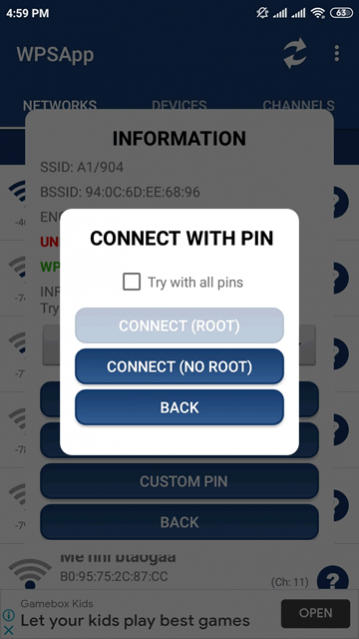 WPSApp lets you try to connect with networks that have WPS enabled but their passwords are unknown. It provides you some commonly used pins for those routers. You can check out these pins in the information menu that can be accessed by clicking the network you want to try to connect to. There are a bunch of pins available for each network and you can view them by clicking the arrow icon located to the right of the pin. Clicking this arrow will open a drop-down menu on which all the pins are listed. Do keep in mind that you need to have a rooted device to use one of these pins to connect to the network.
Features:
Simple user interface
User-friendly design and layout
Find if your Wi-Fi password is easy to guess
Scan for unsecured networks around you
Try connecting to WPS networks with common pins
Check out the devices connected to your Wi-Fi network
Calculate the default keys for certain routers
Inspect the quality of the Wi-Fi channels
Conclusion:
WPSApp is an app that is ideal for people who are concerned about the safety of their Wi-Fi connection and don't want anyone having free access to it. It enables you to see if your Wi-Fi password can be easily guessed by other people and also lets you scan for unsecured networks around you. It is a WPS App worth having on your phone if you have the WPS protocol enabled on your Wi-Fi network.
RELATED PROGRAMS
Our Recommendations
---
---
---
---